are my first names. Siddhi is a name I got from an Indian yoga master by name Swami Satyananda Saraswati. The name is in Sanskrit. At the time he gave me the name he said: "it means 'spritual perfection'". Something to strive for! Johan (Swedish for John) is the name I got from my parents.
During the time I attended the college of
music
I became aware of a mystical dimension of music. No matter how technically skilful you are, the musical performance is dead if this extra, mystical dimension is not present. I discovered that there was a special state of mind that opened for this dimension. It was a state of extraordinary presence, of alert attention, an absence of distracting thoughts - a total focusing. I also noticed that mostly it was not possible to get into this state by pure willpower. In order to get a deeper understanding I began with so-called personal development. Along the road I discovered Yoga. A couple of years later I went to India in order to deepen my studies in Yoga. So I got my name...
Siddhi spelar ur senaste skivan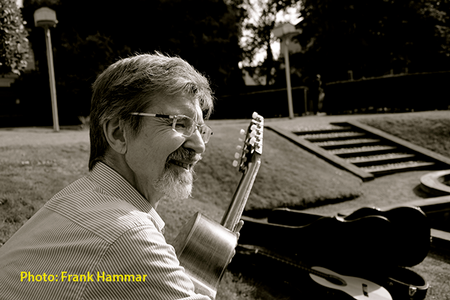 A little manifesto:
I want the music to be able to sharpen the senses and widen the consciousness. Therefore I blend desire and seriousness. Easily listenable and slightly more difficultly accessible. The repertoire ranges from classical guitar, with Bach, Giuliani, Paganini and the Spanish romantics to modern tones by Bergman, Franzén and Britten among others. I also try to pave a new path in the concert reportoire through my compositions and arrangements. I find that humor is important (I say deadpan) as a pathway into the music. Because of that it may happen that I give an informal talk in the music presentation of certain programs. You never know. No one goes safe!
My studies occurred mainly at the Royal College of Music in Stockholm, and I performs both as a soloist, chamber musician and composer. I have several ensembles apart from solo performances, among them the critically acclaimed Skoklosters Kammarsolister and the melodrama "Platero and I", which was received with enthusiasum at Mosebacke in Stockholm among others. I was also credited with creating and performing the music to the succesful "The Saga about Fatumeh" at the VITA-HOUSE in Uppsala 1996 with John-Bertil Lundén as actor, director and producer and with Butoh-dance by Susanna Åkerlund.

1998 came the CD titled "Classical ABBA", where I play my own transcriptions of the complete "ABBA GOLD" album on classical guitar. Some years ago my transcriptions were also published as sheet music by Music Sales in London.
During a period between 1999 thru 2002 I shelved the guitar and the composing. For a while I earned my living by programming. It was a time of economical safety and intellectual stimulation. But the IT bubble bursted and I as so many others was cast out on the streets. However, this knowledge is of use now when I construct ant update this site!
However, now I am back on stage, enthusiastically working with several exciting projects.
Long have I meant to convey - and record - Bach's solo works for lute, violin and cello arranged especially for the 10-string guitar. The violin partitas and sonatas I play, as far as feasible, in the original key and pitch, that is an octave higher than normal guitar. So far I have not had the time to implement it in full, but I hope to carry this too in due course ....